FMA TOOLKIT:

OVERVIEW & OPT-IN
On the pages of the FMA Toolkit you will find all the necessary information, regulatory legal documents, sample forms and case studies required to participate in the First Nations Fiscal Management Act (FMA or FNFMA), which is a required first step to accessing the powers and benefits accorded to First Nations through the First Nations Tax Commission (FNTC), the First Nations Financial Management Board (FNFMB), the First Nations Lands Advisory Board (LAB) and low-cost borrowing initiatives through the First Nations Finance Authority (FNFA).

FMA Fiscal Powers: Benefits to participating in FMA.
The First Nations Fiscal Management Act, enacted in 2005, provides First Nations with access to a comprehensive property taxation framework. FMA offers fiscal governance tools to increase revenue, improve financial management, and leverage property tax for long-term financing. The comprehensive FMA framework provides confidence to investors by providing expanded powers and creating responsibilities for First Nations, and by creating institutions to support First Nations in the exercise of these powers and responsibilities.
Under the FMA, First Nations are able to make laws regarding:
Property taxation
Fees for the provision of services, use of facilities, and for regulatory processes
The expenditure of local revenues
Establishing procedures by which the interests of taxpayers may be represented to the Council
The borrowing of money from the First Nations Finance Authority (FNFA)
The enforcement of laws in respect to outstanding taxes, charges or fees
The delegation of law-making powers
First Nation tax authorities levy and collect real property taxes in the same manner as local governments throughout Canada. First Nation real property tax systems base taxation on a property assessment, use market value assessment methods, use professional assessors, and set rates based on a budget. Procedures for assessment appeals and tax enforcement in First Nation tax systems are also similar to local government approaches.
Taxation laws enacted under the FMA must comply with all statutory requirements, any regulations made under the FMA and any standards established by the FNTC.
SAMPLES, STANDARDS & GUIDES:


FMA TOOLKIT
Terms & Definitions
This website uses a number of terms you may not be familiar with. For your convenience they are all defined in the glossary here.
Act
Act of Parliament. Generally a collection of laws, bylaws & amendments pertaining to a particular aspect of the nation's governance.
Debenture
A debenture is a type of debt instrument unsecured by collateral. Since debentures have no collateral backing, debentures must rely on the creditworthiness and reputation of the issuer for support. Both corporations and governments frequently issue debentures to raise capital or funds.
Interest in Land
A First Nation as a whole has the right to the use and benefit of reserve land. Interest of Individual First Nations Members: Under the Indian Act, individual members of a First Nation may be given allotments. An allotment is the right to use and occupy a parcel of reserve land. Allotments must be approved by the Band Council and the Minister. Once approved, the individual allotment holder has "lawful possession" of a parcel of land and may be issued a Certificate of Possession as evidence of their right. However, the legal title to the land remains with the Crown.
MOU (or MoU)
A memorandum of understanding (MOU or MoU) is an agreement between two or more parties outlined in a formal document. It is not legally binding but signals the willingness of the parties to move forward with a contract.
Policy
A policy sets out what a government plans to achieve and the process and rules used to do so as applied to various laws and creation of by-laws. A policy can identify new by-laws needed to achieve particular aims.
Real Property
Real property, real estate, realty, or immovable property is land which is the property of some person and all structures (also called improvements or fixtures) integrated with or affixed to the land, including crops, buildings, machinery, wells, dams, ponds, mines, canals, and roads, among other things.
Schedule
A First Nation who wishes to access the powers of the FMA, must be added to the Schedule of the FMA. The Schedule is the list of participating First Nations.
Standard
That which is established by authority, custom, or general consent, as a model or example.
FMA and Schedule
The FMA came into force on April 1, 2006. The links below go to the full legal document of the FMA and all Regulations of General Application.

STEP-1:

OPTING I

N–

HOW TO PARTICIPATE IN THE FMA
The FMA is an optional, opt-in legislation.
First Nations wishing to operate property tax regimes, obtain financial performance and financial management certification, or access a bond financing regime under the FMA, first require to be added to the FMA Schedule*.
All bands (as defined in the Indian Act) are eligible to be added to the FMA schedule of participating First Nations.
Once a First Nation has opted in and is added to the FMA schedule – through a Band Council Resolution – they have access to all of the FMA fiscal powers, and to the wide range of services offered by the fiscal institutions.
In order to opt-in, a First Nation must submit a Band Council Resolution (BCR) to the Minister of Crown-Indigenous Relations requesting that they be added to the schedule of the FNFMA.
If you are considering opting in to the FMA:

Contact the FNTC to discuss the process:    
Email FNTC
Toll Free: 1-855-682-3682

Consider arranging for a presentation to Chief and Council and senior staff
If you've decided to proceed:

Download the Sample BCR (below) Requesting to be Added to the FMA Schedule

Develop a work plan in conjunction with FNTC
SAMPLES, STANDARDS & GUIDES:


NOTICES
Notice Requirements
When a First Nation opts into the FMA, effective communication ensures that members, residents and taxpayers are aware of the system, its economic and service opportunities, and the responsibilities of the First Nation. A fundamental aspect of all tax systems is giving fair and adequate notice to those whose interests are at stake. At every critical step in the First Nation tax system there are notice provisions aimed at different stakeholders. Below are the standards and guidelines related to providing notice.

STEP-2:

WORKING WITH FIRST NATIONS INSTITUTIONS
Once a First Nation has been added to the FMA schedule, they can begin working with any or all of the First Nations institutions established under the FMA:
First Nations Tax Commission

(FNTC) is a shared-governance corporation that regulates and streamlines the approval of property tax and new local revenue laws of participating First Nations, builds administrative capacity through sample laws and accredited training, and reconciles First Nation government and taxpayer interests.

First Nations Financial Management Board

(FMB) is a shared-governance corporation which assists First Nations in strengthening their local financial management regimes and provides independent certification to support borrowing from First Nations Finance Authority and for First Nations economic development.

First Nations Finance Authority

(FNFA) is a non-profit corporation that permits qualifying First Nations to work co-operatively in raising long-term private capital at preferred rates through the issuance of bonds, and also provides investment services to First Nations.
The First Nations Institutions work together to improve the ability of First Nations governments to address the social and economic well-being of their communities, while providing the practical tools available to other governments for modern fiscal management.
The FNFA issued its inaugural bond of $90 million in June 2014. $50 million was added to the bond in July 2015, $110 million in May 2016, $126 million in October 2017, and $138 million in September 2018 for a total of $514 million. The 43 participating First Nations are using the funds raised by the FNFA to support infrastructure and economic development projects for their communities.
RESOURCES:


FIRST NATIONS INSTITUTIONS

NEXT STEPS:

AS A PARTICIPATING FIRST NATION
First Nations tend to establish Real Property taxes first, and then consider building on that established framework with additional local revenue laws such as a Development Cost Charges Law, a Property Transfer Tax Law, a Business Activity Tax Law and a Service Fee/Taxes Law.

SUCCESS STATISTICS:


FIRST NATIONS SCHEDULED TO THE FMA
Since 2006, 280 First Nations are scheduled to (or participating in) the FMA, and more are asking to be added on a regular basis.
125 of these First Nations now collect tax under the FMA
145 have had their financial performance certified by the FNFMB
89 have qualified as borrowing members for purposes of FNFA borrowing
The chart below summarizes First Nation participation in the act by province and territory.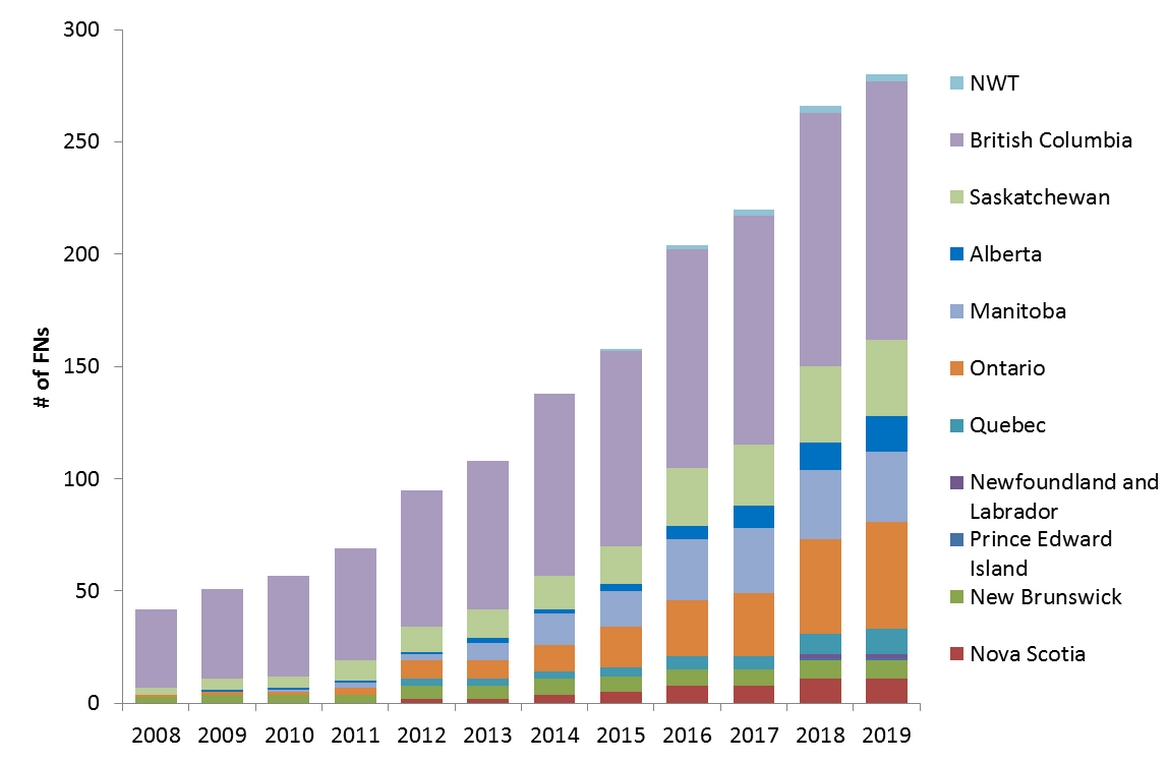 FAQs: TAXATION UNDER THE FMA
Common questions relating to taxation under the Fiscal Management Act (FMA)
Why enact a property taxation law or by-law?
fntc-gl1
2020-04-23T19:20:54-07:00
Jurisdiction




By enacting a property taxation law or by-law, a First Nation establishes jurisdiction over the territory to which the law or by-law applies — the property within the reserve boundaries. Some provincial and municipal governments tax non-member occupiers and businesses located on reserve. In exercising its property tax jurisdiction in these provinces, the First Nation serves notice that it is occupying the field and those provinces that are taxing on reserve lands will vacate accordingly.

Revenue




Real property taxation provides First Nation communities an independent, stable and flexible source of revenue, which can be reinvested to improve services, respond to priorities, and address deficiencies in economic infrastructure. Improved community infrastructure and the provision of dependable services also attract commercial and residential development.

Establishment of a Regulatory Framework to Support Economic Growth




Property taxation is a fundamental pillar of financing government and future economic growth. In this regard, First Nations may choose to establish property taxation in anticipation of future growth or to better manage their current economic activity. Having the regulatory framework in place assists with community planning and allows potential investors to know what the rules are before they invest.